Scroll Down for Page Content
CONTACT DETAILS
Bookstore
Fall River
Bookstore@BristolCC.edu
774.357.2239
fax: 774.357.3260

777 Elsbree Street
Fall River, MA 02720
C Building - First Floor
Mon - Fri: 9 a.m. - 2 p.m.

---
---
ATTENTION: COVID-19 UPDATE
Our Bristol Bookstore team operated by Follett is committed to using the recommended best practices of social distancing, cleaning procedures, and employee COVID-19 guidelines to ensure our stores are safe for our employees and customers.


Clean Environments Start with Our Team
Clean/sanitize heightened high-touch point areas such as door handles, pin pads, counters, and phones on an every two-hour basis, as well as each morning and each night during regular clean-up.
Covid-19 training for both current and new employees.
Cross-trained our staff to use labor more efficiently.


Maintaining Safety and Guest Confidence
Where necessary, provide queuing that is marked for recommended physical distancing with floor decals.
Face masks are required to be worn by store associates while in-store.
Communicate sick time policy to staff.


Online Ordering
Online ordering which provides shipping to customers' homes.
Curbside pick-up, customers who place orders online can park in designated parking spots on the Fall River campus.
Bookstore lockers at the Attleboro, New Bedford and Taunton campuses.


In-store Shopping
Face masks are required to be worn by customers while shopping in store.
Upon entering the bookstore customers will be asked to use hand sanitizer (provided by the Bookstore).
One-way shopping isles to maintain 6 ft. social distancing.
Stanchions marked for customers to maintain 6ft. social distancing while waiting at checkout.
Protective barriers at our registers to separate customers and associates.
We encourage customers to use the campus card, debit/ or credit as we would like to limit the use of cash handling.


With this, we are extremely confident that we will be fully prepared to offer quality service to Bristol in an efficient and safe shopping environment.
Click HERE for February 2023 Bookstore Hours


Bookstore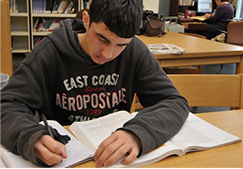 Bristol Community College bookstore can be found at the Fall River location and is operated by Follett Higher Education Group.
The Bristol Bookstore is here to serve the needs of our students, faculty, staff, and alumni. Whether by providing campus course materials, supplies, technology (i.e. computer) or Bristol clothing and gifts.
The Fall River Campus is the only campus that keeps physical inventory that can be purchased on site. Students have the option to shop in-store at the Fall River location or order their books and other course materials online.
Orders can be picked up by selecting your preference at checkout.


In-store Pickup: FREE
Curbside Pickup: FREE
Fall River Campus - Only
Curbside pickup, customers who place orders online can park in designated parking spots on the Fall River campus in Lot 4, once you arrive, call 774.357.3847 and an associate will bring your order to your vehicle.


Bookstore Locker Pickup: Free
Attleboro Campus
New Bedford Campus
Taunton Campus


Shipping Costs
Ground (5 to 7 Days): $7.50
2nd Day: $13.99
Overnight: $19.99


Click here to Visit Bristol's Online Bookstore
There you'll find:
New, Used, and Rental Books for your courses.
Digital textbooks.
Bristol clothing/apparel like fan gear, sweatshirts, and t-shirts!
Bristol Gifts like coffee mugs and lanyards.
School supplies like notebooks, binders, pens & pencils.
Technology items like headphones, and laptops.
Other classroom materials.


Follett Merit Scholarships
Scholarships are awarded to students who contribute significantly in a leadership capacity, preferably in a student leadership role at Bristol. Examples include, but are not limited to, service on College committees, elected student leadership positions, service learning, student club leadership roles, and outstanding student athletic achievement. A maximum award of $500 per semester will be available for full-time students and a maximum award of $300 per semester will be granted for part-time students. Click to Apply for Follett Bookstore Scholarship at Bristol.


Book Advances
The Campus Card is needed for the book advance program. Book Advances are only allowed to be used at the Bristol bookstore ( in person or online). Book advances give students the opportunity to use some of their financial aid funds in advance of the first disbursement to purchase course materials, supplies and technology (i.e. computer) at the Bristol Bookstore. To be eligible for a book advance, you will need to have a complete financial aid file, have received a financial aid award letter, and have a pending credit balance on your bill. A book advance is not a grant and is not in addition to your financial aid award package.
There are no cash refunds on items returned that were bought with a book advance. Also, you don't need to spend your entire book advance. All book advance charges are added to your tuition bill. If your eligibility changes and/or your financial aid award is not enough to cover the book advance charges, you are responsible for repaying the charge. Also, if you drop a class or fully withdraw from Bristol Community College and used the book advance, you may be responsible to pay back all or part of the book advance.
To use your book advance you will need to have your campus card with you at the time of purchase.


Eligibility
The book advance amount is based on enrollment level, authorized financial aid, and charges. The maximum value is listed below:
$1,300 for full-time students (12 or more credits)
$1,100 for 3/4-time students (9-11 credits)
$900 for 1/2-time students (6-8 credits)
$700 for 1/4 time students (less than 6 credits)


A student may meet the eligibility requirements, but not be eligible for the maximum value. An example would be a full-time student with a $200 pending credit balance. Although the full-time limit is $800, the student will be eligible for only a $200 book advance.


Exchanges and Returns
Book exchanges and refunds can be made in store with the original receipt within the bookstores return policy. Please stop in store for additional information at the beginning of each semester. If you drop a course during Bristol's add/drop period, you can return your books to the bookstore for a refund.   

In addition, if you purchase books from sellers other than Follett, you may have difficulty returning if the required book changes or if the course is canceled. Don't waste time or money. Buy your books with confidence from the Bristol campus bookstore.


Price Match
Find a Lower Price? We'll Match it!
Purchases may be made in-store or online; Price Match must be transacted at the campus store.
Price matched against Amazon, Barns & Noble, or a local campus competitor
Excludes peer-to-peer marketplaces, Amazon's Warehouse Deals, Deals of the Day, Lightning Deals, "Amazon Deals", aggregator sites, digital books and publisher-direct prices.
Online sites must be located in the United States.
The book must be in stock with us and with the retailer advertising the lower price. If the book is rented, the rental period must be the same as the bookstore's.
The lower-priced item must match the exact book ISBN and edition purchased or rented, including accompanying CDs, online access codes, student materials etc.
Price adjustments provided at time of purchase.

Ad must be dated not more than 7 days prior to intended purchase date.
Printed screen shot of ad.
Ad shown via mobile device.
Hard copy of ad.

Price adjustment after purchase.

Within 7 days of the original transaction.
Must have original receipt.

Must state if book was purchased new, used or rented.
Price adjustment will only be provided for the same format (new/used, rented/purchased).

Purchase and price adjustment differences will be provided on a Follett Bookstore Gift Card.
 Maximum of $100 per item and $1,000 per customer.
Other exclusions:

Prices that require minimum quantity purchases.
Misprinted or inaccurate prices.
Prices from auctions or requiring memberships.
Bundle offers, instant rebates, mail-in offers, offers that include financing.
Price Match gift cards cannot be used to purchase other gift cards.


---
Contact Details
Bookstore – Fall River
Fall River Campus
777 Elsbree Street
Fall River, MA 02720
Location: C Building, First Floor
Phone: 774.357.2239
Fax: 774.357.3260
Email to: Bookstore@BristolCC.edu
Hours: Please see schedule above.


Bookstore - Attleboro
11 Field Road
Attleboro, MA 02703
(GPS 34 Forest St. Attleboro, MA 02703)
Bookstore Locker Location Pick-up: Room 218
Email: Attleboro@BristolCC.edu or call 774.357.3527 for campus hours.

Bookstore - New Bedford
800 Purchase Street
New Bedford, MA 02740
Bookstore Locker Location Pick-up: Lower Level Hallway
Email: NewBedford@BristolCC.edu or call 774.357.4002 for campus hours.

Bookstore - Taunton
2 Hamilton Street
Taunton, MA 02780
Bookstore Locker Location Pick-up: Room 100C
Email: Taunton@BristolCC.edu or call 774.357.3767 for campus hours.