Bristol Students & Employees VaxUp
Upload your COVID-19 Vaccination Card
Get started! Download the Bristol App at the App Store or Google Play
Attention Students: After you have uploaded your card, you will receive an email confirming that your upload was successful and you are able to register for classes. This process could take up to one hour.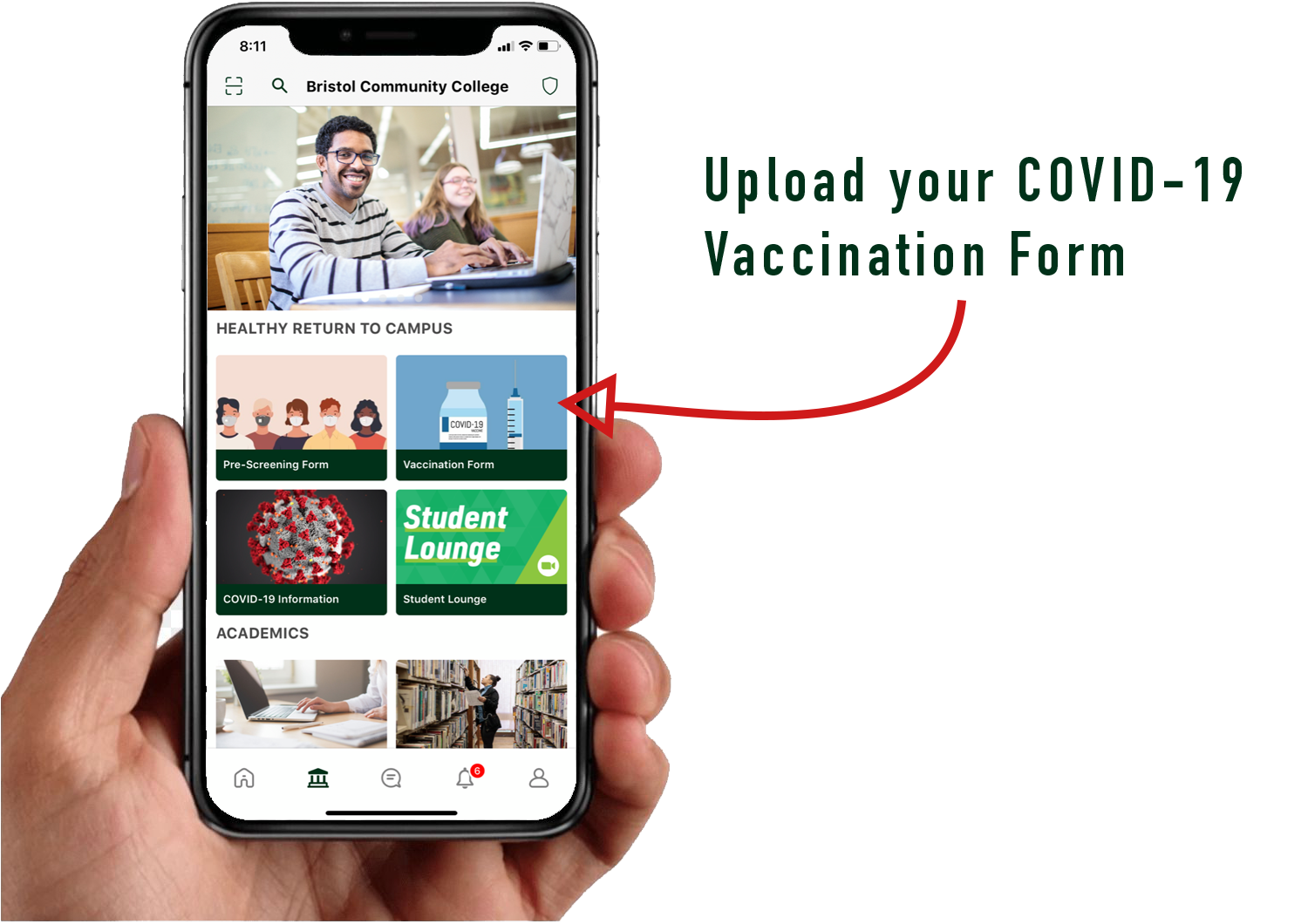 ---
FAQs
What if I don't have the Bristol App?
You can download the Bristol App at the App Store or Google Play.


What if I don't have a phone?
If you are unable to download the Bristol App to upload your COVID-19 vaccination card, email VaxUpload@BristolCC.edu for assistance. The return email will have alternate instructions. Please DO NOT send your vaccination card to this email address.


How do I find my #900# number (needed when I upload my Vax card)?
https://BristolCC.edu/my900


Who should I contact if I have questions about uploading my card?
Contact HealthPass@BristolCC.edu


Do I have to upload if I am only dropping something off at a campus?
No, anyone visiting a college location for approximately 15 minutes or less does need to upload their COVID-19 vaccination card.


Can I register for online classes without uploading my vaccination card?
Yes, online students do not need to upload their COVID-19 vaccination card UNLESS they plan to visit one of the college locations for in person services.


Do I have to upload my COVID-19 vaccination card if I am attending a basketball game?
No, we will be checking cards at the door. Remember to bring a hard copy or digital copy with you.


Is there still a Student and Employee Thank You payment when you upload your COVID-19 vaccination card?
No, the program has ended.
Bristol VaxUp Privacy
Employee and student COVID-19 vaccination information is protected private information under FERPA (Family Educational Rights and Privacy Act). Please note, by uploading your vaccination card, only limited Bristol Employees will have access to this information as outlined in our FERPA policy. Vaccination status is not included in directory information and will not be shared in any public records request.
Please visit the CDC webpage for additional information.
---
Click HERE to view the Vaccination Deadline Timeline