Scroll Down for Page Content
---
---
---
Students registering for face-to-face and/or hybrid courses will be required to provide proof of COVID-19 Vaccination or have a valid accommodation for COVID-19 prior to registration.
If you wish to come to campus for services, you will need to show proof of COVID-19 Vaccination or have a valid accommodation for COVID-19.
Visit BristolCC.edu/VaccinationPolicy for more information.
---
COVID-19 UPDATE: For the most up-to-date information related to COVID-19 and returning to campus please visit BristolCC.edu/Together.
If you are currently having Symptoms or are feeling sick, please visit the If You Are Sick page.
---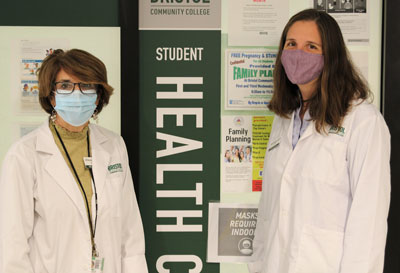 Bristol Student Health Services helps you maximize your health and well-being while achieving academic success at the college.
Services Include the following:
Free Take-Home COVID-19 Rapid Test Kits Available
COVID-19 Information
A Place to Rest
Nurse Consultations
First Aid
Free Condoms
Over-the-Counter Medications
Immunization Record Collection
Referrals to Health Providers
Health & Wellness Information
Mental Health Counseling Referrals
Free Pregnancy & STI Testing by CFC Family Planning
The office works with area health providers to offer students comprehensive care, referrals, and resources. Student Health Services is committed to providing you with respectful, caring, and confidential services. All visits are confidential and free of charge.
Staff
Jill Dumont BSN, RN, Health Services Coordinator
Abby Egginton RN, ND, Healthcare Counselor
Paul Paquette, MPH, Healthcare Counselor
Health Education

The nurses at Bristol Community College's Health Center can provide health education presentations to campus groups. If you would like to collaborate with one of the nurses, please be in touch: HealthServices@BristolCC.edu.
Immunization Records
The state of Massachusetts requires students over the age of 30 taking 12 or more face-to-face credits during the fall semester to submit proof of immunizations to Bristol, typically before the start of classes but absolutely no later than 30 days after the start of classes. Failure to submit your immunization records will result in an enrollment hold being placed on your Bristol record, which will prevent registration for future courses.
Click below to learn more about the requirements and how to submit your records.