Scroll Down for Page Content
---
---
Social Justice is defined in terms of the distribution of wealth, opportunities, and privileges within society (Oxford Dictionary).
Bristol's Multicultural Affairs department is committed to the cause of 'Social Justice' by providing actionable items and education opportunities about various social justice issues. Please continue viewing this page to learn about the different Social Justice initiatives currently taking place.
Upcoming Social Justice Forums
Stay tuned for upcoming Social Justice Forum events.
Past Multicultural Affairs Social Justice Forums
Anti-Semitism Past and Present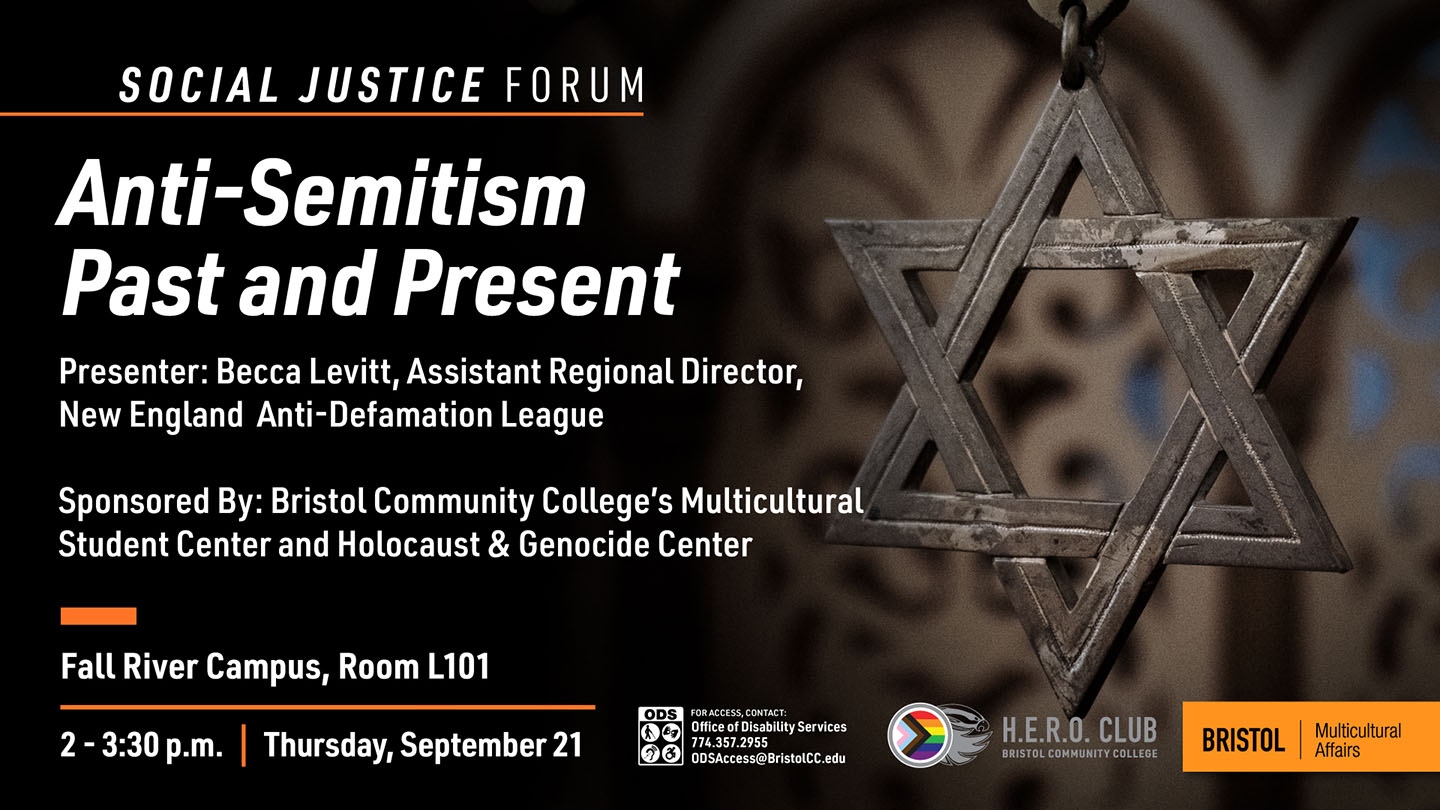 Date: Thursday, September 21, 2 - 3:30 p.m., Fall River Campus Room L101
Presenter: Becca Levitt, Assistant Regional Director, New England Anti-Defamation League.
According to the Anti-Defamation League (ADL) the number of Anti-Semitic incidents increased 41% in 2022 over 2021 in Massachusetts. This follows an increase in such incidents across the country.
This presentation will discuss the roots of Antisemitism, and how stereotypes & misinformation are currently being used to perpetuate the rise of Anti-Semitism seen in the U.S. today. The format of this event will be a presentation followed by a Q&A at the end.
Event co-sponsored by the Multicultural Student Center & Bristol's Holocaust & Genocide Center.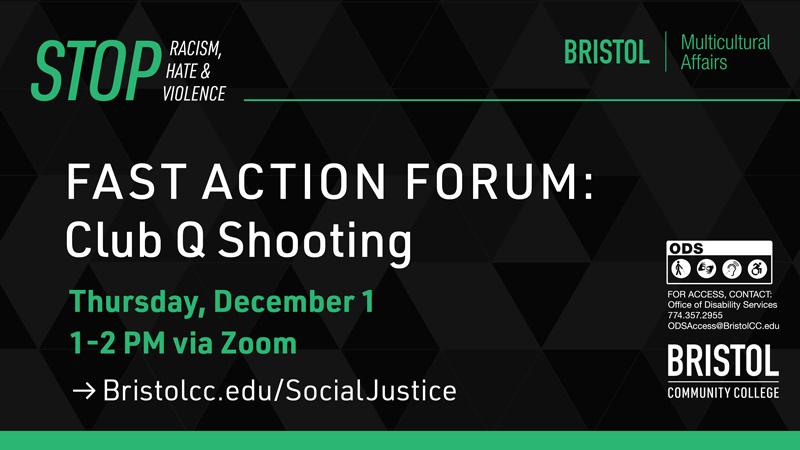 Bristol Stands Against LGBTQIA+ Hate and Violence
Fast Action Forum: Club Q Shooting
Thursday, Dec. 1, 1 p.m. via Zoom
In response to the tragic Club Q shooting, we held an open forum for the Bristol community on Thursday, December 1, 2022 at 1 p.m. via zoom.
If you were unable to join for this gathering, please know the Student Affairs Office, including the Multicultural Center, is available for you to receive support.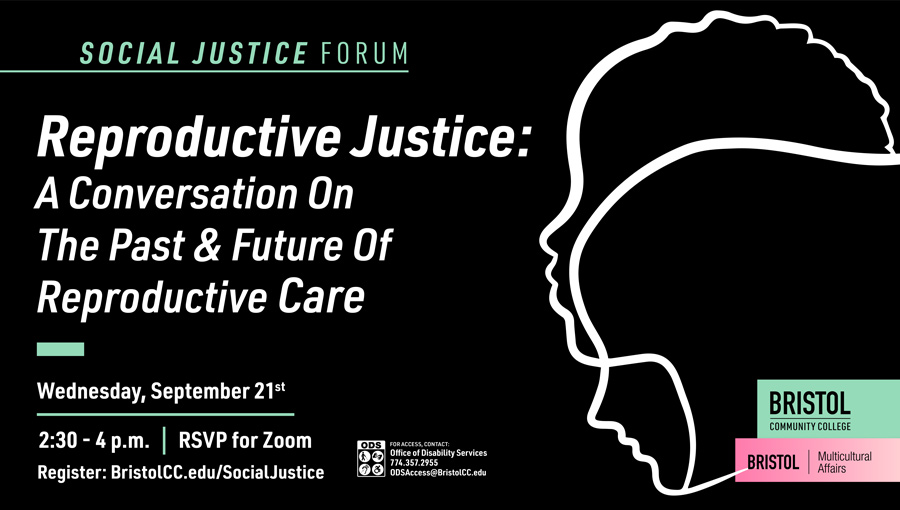 The Women's Center and Multicultural Affairs hosted the first Social Justice Forum of Fall 2022 on Wednesday, September 21 at 2:30 - 4 p.m. via Zoom. This was a panel discussion on Reproductive Justice: A Conversation on the Past and Future of Reproductive Care. The forum addressed education, awareness, and accessibility regarding reproductive justice.
Professor Robyn Worthington of Behavioral & Social Sciences and Education spoke on the history of women's rights. There were panelists from local community organizations providing information on advocacy and access to those seeking various types of reproductive care.
For more information, please contact Elisabetta.Misuraca@Bristolcc.edu or Melissa.Rogers@Bristolcc.edu.
About Multicultural Affairs Social Justice Forums

Several Social Justice Forums were held during the summer and fall of 2020. The forums presented various themes that included the intersectionality of Race within women's, immigrants', LGBTQ+, mental health, and disability rights. The forums also focused on racial injustice, education inequity, and criminal justice and policing.
The forums were inspired shortly after the tragic death of George Floyd, which sparked massive protests across the country. The forums' outlook is to bring awareness to social inequities, create positive change and develop solutions to the barriers that exist in our country for marginalized groups.
The end goal is to build a viable community of partnerships in the spirit of social justice, diversity, equity, and inclusion work (DEI).
Social Justice Tool Box
Please click on the links below to access Social Justice resource videos, books, articles, PowerPoints, podcasts, and more by theme/topic!
Social Justice Newsletter
Beyond the forums, the Multicultural Affairs staff is committed to creating a community through our Social Justice Newsletters. The intent of these newsletters is to bring readers actionable items, resources, and networks associated with forum topics and social justice.
Additional Information
Please contact the Multicultural Affairs Department below for further questions/information about Multicultural Affairs Social Justice Initiatives.
Melissa Rogers, Student Activity Officer, Multicultural Student Center
Email: Melissa.Rogers@BristolCC.edu | Phone: 774.357.2230