Paralegal & Legal Studies
Scroll Down for Page Content
---
---

Paralegal professionals (also known as legal assistants) perform critical legal services that make a real difference in people's lives.
The Paralegal & Legal Studies program at Bristol Community College offers:
Associate of Science in Paralegal & Legal Studies (21 courses).
Certificate of Achievement in Paralegal & Legal Studies (9 courses).
Classes offered during evening, day and online.
Courses stress practical assignments.
Get valuable work experience through our Internship Program.
You can now complete the evening program fully remotely by taking online and synchronous (zoom) classes.


Bristol Community College's Paralegal & Legal Studies program was granted approval from the American Bar Association (ABA).

The ABA approves paralegal education programs that meet its strict standards to promote high-quality paralegal education, training and educational standards. The prestigious approval makes Bristol one of only six approved programs in Massachusetts and one of only four community college paralegal programs to be approved by the national organization. (read more)
Find Bristol Paralegal Studies on Facebook.


Learn More About Paralegal & Legal Studies Program
Great Job Outlook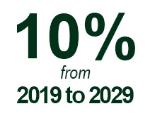 ‌Employment of paralegals and legal assistants is projected to grow 10 percent from 2019 to 2029, much faster than the average for all occupations. Formally trained paralegals with strong computer and database management skills should have the best job prospect.
Some law firms are rethinking their project staffing and rebuilding their support staff by hiring paralegals.
Paralegals work in the public and private sector, in law firms, corporations, courts, nonprofit agencies, and other work environments.
Most paralegals and legal assistants have at least an associate's degree or a certificate in paralegal studies. In some cases, employers may hire college graduates with a bachelor's degree but no legal experience or specialized education and train them on the job.
We are a member of AAfPE (American Association for Paralegal Education (www.aafpe.org)‌‌
Our courses are taught by award-winning faculty
Our students can join the Lambda Epsilon Chi (LEX) National Paralegal Honor Society (https://www.aafpe.org/lex)‌
All students must complete the Paralegal Internship course, working for 150 hours under the supervision of an attorney.
We collaborate closely with UMass Law School.
Graduates of our Associate Program can transfer as juniors to UMass Dartmouth, Bridgewater State University, Bay State College.
Please note that a Certificate or Degree in Paralegal Studies does not enable a person to practice law, represent clients in court or give legal advice; only licensed attorneys can perform these functions.


Click the PLS Transfer Policy for information regarding transferring into our program from other colleges.
For additional information please contact:
Elzbieta Nowakowski, J.D.
Associate Professor & Program Coordinator
Paralegal & Legal Studies
Elizabeth.Nowakowski@bristolcc.edu

Click here for Associate degree Program Information
Click here for Certificate Program Information