Scroll Down for Page Content
---
---
MA Inclusive Concurrent Enrollment Initiative (MAICEI)
What is MAICEI?
The Massachusetts Inclusive Concurrent Enrollment Initiative (MAICEI) is a statewide initiative that supports eligible public high school students with intellectual disabilities and/or autism to have the opportunity to attend two and four-year public colleges and be fully included in all aspects of college life and learning.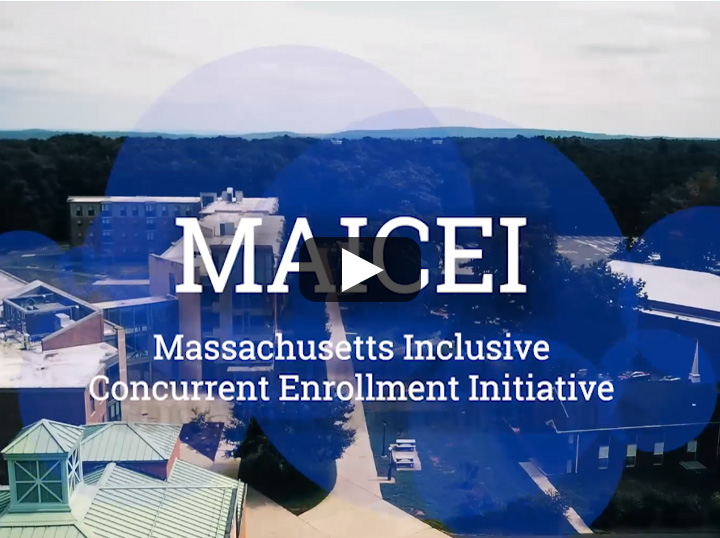 Key components of the Bristol MAICEI initiative
Admission to Bristol Community College as a "non-degree" seeking student.
Audit or take for credit up to 3 college classes per semester (with no pre-requisites) that relate to the student's career goals and interests.
Participation in a person-centered planning process that identifies a long-term vision with short-term goals.
Access to the full range of academic services available to all students (e.g. advising, tutoring, learning center, library).
Obtain work experience by participating in internships based on interests and career goals.
Participation in career development activities that help prepare students for work.
Opportunities to join clubs and take part in campus social activities.
Develop organization, time management, self-advocacy, and problem-solving skills.
An education coach hired through the partnering school district that supports the student in classes and on campus.
A college advisor who helps students create their course schedule.
Check-in meetings with the MAICEI coordinator to review goals, problem-solve, and help access college resources.
Free workshops for parents and students on issues related to transitioning into adulthood.
Who is eligible to participate?
Students who are enrolled in a partnering school district, who meet the eligibility criteria and are recommended by the school.
Students who have an intellectual disability and/or autism as documented in their Individualized Education Plan (IEP).
Students who are aged 18-21, who have not passed MCAS, and are eligible for special education services as documented in their IEP (Tier 1).
Students who are aged 20-21, have passed MCAS, but are still eligible for special education services as documented in their IEP because of significant functional disabilities and their transition needs (Tier 2).
Students who are eager to go to college and take college classes.
Students who have a good high school attendance record.
Partnering Schools
School districts interested in becoming partners with the Bristol MAICEI should contact the coordinator or program director. Once schools have signed a partnership agreement, districts can refer students who meet the eligibility criteria by helping students complete the Bristol Community College MAICEI Application. Students are accepted in both the fall and spring semesters.
School districts that have partnered with Bristol MAICEI include Dighton-Rehoboth, Fall River, North Attleboro, Old Rochester, Somerset-Berkley, Swansea, and Westport.
Partnership Leadership Team
The Partnership Leadership Team is comprised of representatives from the partnering school districts, key personnel from the college administration and teaching faculty, college alumni, representatives from the Department of Developmental Services, parent representatives, and the MAICEI program director and coordinator. The team meets five times a year and plays a key role in the implementation and oversight of the initiative.
---
Interested Students
Interested students (and families) can contact their special education teacher or the school district's director of special education. Students wanting to learn about the courses Bristol Community College offers are encouraged to go to the college website www.bristolcc.edu. Students and their families are always welcome to call or email the coordinator or program director for more information. Information sessions are held throughout the year for prospective students and their families.
Application Timeline
Application forms for the MAICEI initiative are distributed in late January (for the fall semester) and in November (for the spring semester). Students who have applied will be required to participate in an interview with the MAICEI coordinator and program director. Once accepted the student will then meet with their college advisor to register for classes.