Society for Human Resources Management Exam Prep
Scroll Down for Page Content
Increase your chances of passing your SHRM-CP or SHRM-SCP exam with Bristol's 12-week hybrid and instructor-led prep course.

Move your career forward with SHRM certification
It's time to make your move. Earning your SHRM-CP or SHRM-SCP credential can help you enhance your HR expertise, empower positive change in your workplace, and increase your earning potential.
The impact of SHRM certification
Did you know 92% of HR executives agree that it will be important for HR professionals to be SHRM-certified in the future? *
If that's not convincing enough, here are a few more reasons to earn your SHRM certification.
Enhances HR Expertise: HR professionals who earn SHRM certification report significantly higher levels of credibility with peers and organizational leaders.
Increases Earning Potential: HR professionals who pass the SHRM certification exam report earning salaries 14%-15% higher than peers who do not. *
Advances Career: 71% of HR executives agree that SHRM certification increases the likelihood of obtaining a promotion in HR and list it as a preferred qualification. *
*Source: 2020-2021 Certification & Certification Preparation Resource Guide, SHRM
A course designed for your success
This course combines expert instruction with the most comprehensive and effective way to prepare for success on your SHRM-CP or SHRM-SCP exam. The interactive SHRM Learning System is a personalized roadmap to help you master the SHRM Body of Applied Skills and Knowledge™ (SHRM BASK™) and prepare you for the SHRM certification exams.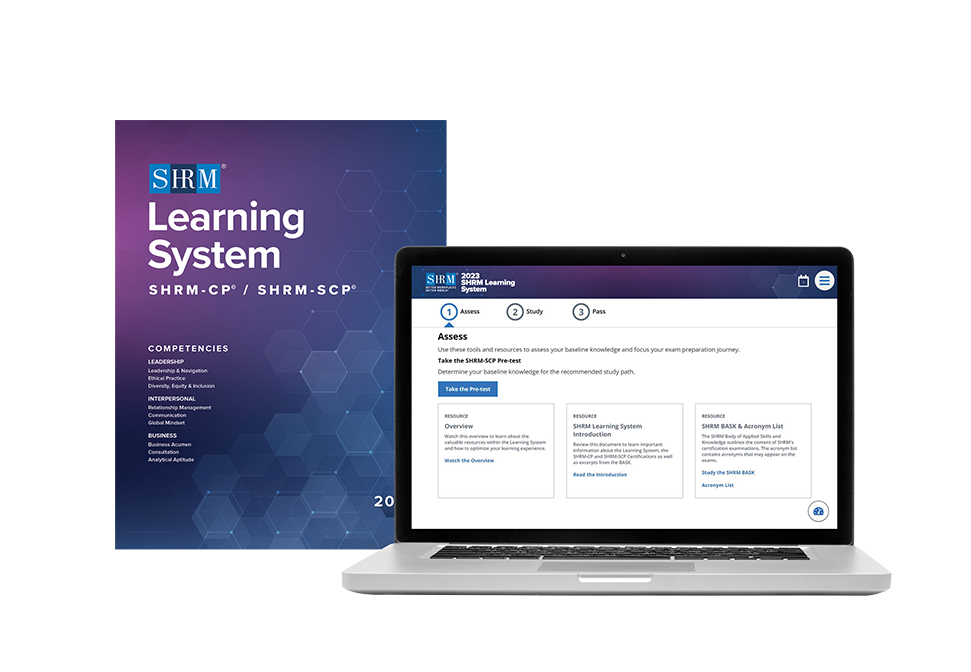 The SHRM Learning System is the official SHRM certification prep tool. This interactive roadmap delivers the most comprehensive, flexible, and effective SHRM-CP and SHRM-SCP exam preparation.

Designed using a proven approach for teaching adult learners, this system helps you understand, apply, and engage with behavioral competencies and HR Knowledge. Online learning modules, based on the SHRM BASK, and interactive study tools, are incorporated into the study process to test your knowledge and decision-making skills.

There's no better way to successfully prepare for the SHRM certification exams.
ASSESS
The pre-test gives insight into what you already know and what you should focus your studies on. It includes questions that previously appeared on SHRM exams, giving you an idea of what to expect on exam day
In-class pretest will be given during course.

STUDY
Maximize your study time as the system guides you through relevant, bite-sized topics based on your knowledge gaps. Put your learning to the test with:
Online learning modules covering the SHRM BASK content is variety of different formats to allow for custom study schedules and learning styles (eReader, online and optional printed formats)
2,700+ practice questions are included in assessment, quizzes, post-test and practice exam
Flashcards of key terms, both electronic and printable
Learn out loud audio segments and competencies in action activities bring the competencies to life
New SHRM Learning System virtual guide to help you understand how to get the most out of the program
PASS
Boost your exam day confidence with these resources available in the SHRM Learning System.
Instructional videos help you understand situational judgment questions and break down how to answer them
A post-test to help you check your knowledge prior to taking your exam
The practice exam, made up of questions previously offered on the actual SHRM certification, should be taken after you complete your studies
A digital copy of Ace Your SHRM Exam: A Guide to Success on the SHRM-CP and SHRM-SCP Exams, gives you great advice to help you succeed on exam day
Topics Covered
Study with learning modules that provide an in-depth exploration of the knowledge domains and behavioral competencies tested on the SHRM exams.
Competencies
Leadership
Leadership & Navigation
Ethical Practice
Diversity, Equity & Inclusion
Interpersonal
Relationship Management
Communication
Global Mindset
Business
Business Acumen
Consultation
Analytical Aptitude
People
HR Strategy
Talent Acquisition
Employee Engagement & Retention
Learning & Development
Total Rewards
Organization
Structure of the HR Function
Organizational Effectiveness & Development
Workforce Management
Employee & Labor Relations
Technology Management
Workplace
Managing a Global Workforce
Risk Management
Corporate Social Responsibility
U.S. Employment Law & Regulations (U.S. Only)