Holocaust and Genocide Center Events
Scroll Down for Page Content
---
---
We welcome you to join us at any of our upcoming events. Check back for info.
---
Recent Events
Zoom Event
The Armenian Genocide
Date: October 28, 2021
Featuring Pauline Getzoyan
Zoom Event
All the Horrors of War: A Jewish Girl, a British Doctor, and the Liberation of Bergen-Belsen
Date: October 7, 2021
Featuring Dr. Bernice Lerner
Zoom Event
The Unanswered Letter: One Holocaust Family's Desperate Plea for Help
Date: April 21, 2021
Featuring Faris Cassell
Zoom Event
Refuge from the Holocaust in Latin America
Date: April 5, 2021
Featuring Christina Chavarria
Zoom Event
A Hard Look in the Mirror: Nostra Aetate and Catholic Self-Examination After the Holocaust
Date: March 22, 2021
Featuring Dr. Arther Urbano
Zoom Event
Jewish Life in the Aftermath of the Holocaust in Europe
Date: November 12, 2020
Featuring Dr. Avinoam Patt, Director - Center for Judaic Studies and Contemporary Life, Doris and Simon Konover Chair of Judaic Studies, University of Connecticut
Dr. Patt discusses Jewish life in the aftermath of the Holocaust for survivors of the war in displaced persons camps.
Zoom Event
The Nuremberg Trials
Date:
Featuring Dr. Michael Bryant, Professor of History and Legal Studies, Bryant University
The Nuremberg Trials following the Second World War were the first attempt on the part of the world community to hold leaders of nations responsible for "crimes against humanity" and genocide. Dr, Michael Bryant, Professor of History and Legal Studies, Bryant University discusses the background of these trials as well as their significance to the development of international law.
Zoom Event
Anti-Semitism: Past and Present
Monday, August 17, 2020
Featuring Tom White, from the Cohen Center, Keene State College.
Watch the recording of the event below:
---
Other Events
Join us for a New Monthly Series - In the Moment: Conversations Worth Having
Third Tuesday of the Month Beginning September 15 | Noon | Zoom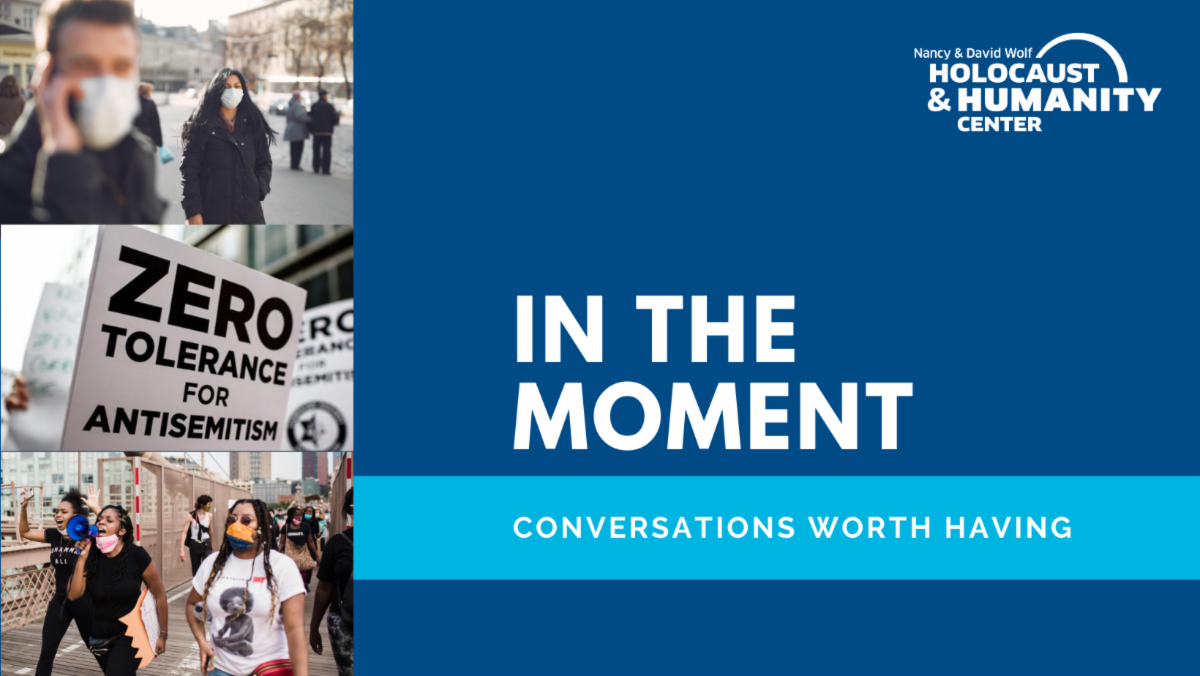 The Nancy & David Wolf Holocaust & Humanity Center invites you to join us for a monthly dialogue about the stories and issues that define our current moment. Having conversations about current events helps us to process and understand the importance of people, events, and issues that shape our world today. Each month, we'll bring in community leaders, scholars, experts, and activists to discuss contemporary issues – like antisemitism, genocide, racial inequality, voter suppression, mental health – with our staff. During this hour-long session, learn about and process current topics while becoming inspired to use your own character strengths to tackle issues as an upstander today.
Click HERE for more information.
Digital Holocaust Speaker Series
Wednesdays | 11:00 a.m. | Zoom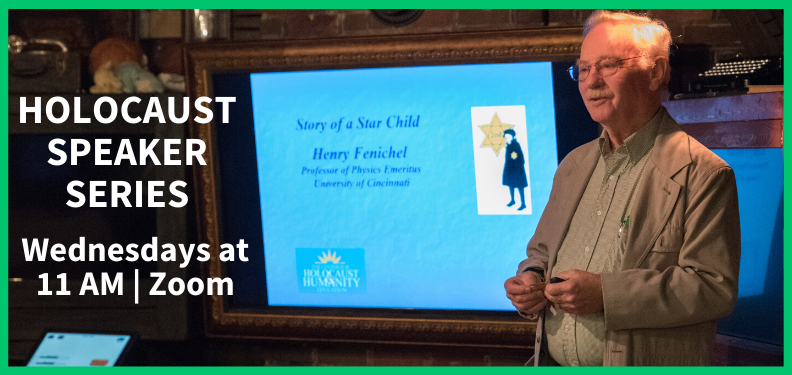 Hear Holocaust survivors and their descendants share stories of life before, during, and after the Holocaust each Wednesday at 11:00 AM online. Talks are FREE and open to the public with registration via Zoom.
Want a weekly email reminder to sign up for the Holocaust Speaker Series? Sign up here.
---
For more information, contact Dr. Ron Weisberger, Director
774.357.2444 | Ron.Weisberger@BristolCC.edu
For access, contact: Office of Disability Services, 508.678.2811 ext. 2955, ODSAccess@BristolCC.edu.