Your safety is our number one priority.
Bristol is a COVID-19 vaccinated community.
Students registering for face-to-face and/or hybrid courses for Fall semester will be required to provide proof of COVID-19 vaccination or have a valid accommodation for COVID-19 prior to registration.
Proof of vaccination or a valid COVID-19 accommodation is required for all students taking face-to-face and hybrid classes or any student visiting the college for more than approximately 15 minutes for a service or to attend an event.
Proof of vaccination is NOT required for online students who will not be visiting any of the college locations for more than 15 minutes.
Know your Color!
Please see the graph below as a visual guide. The color in effect will be posted on monitors around the college. See New Campus Protocols for more details.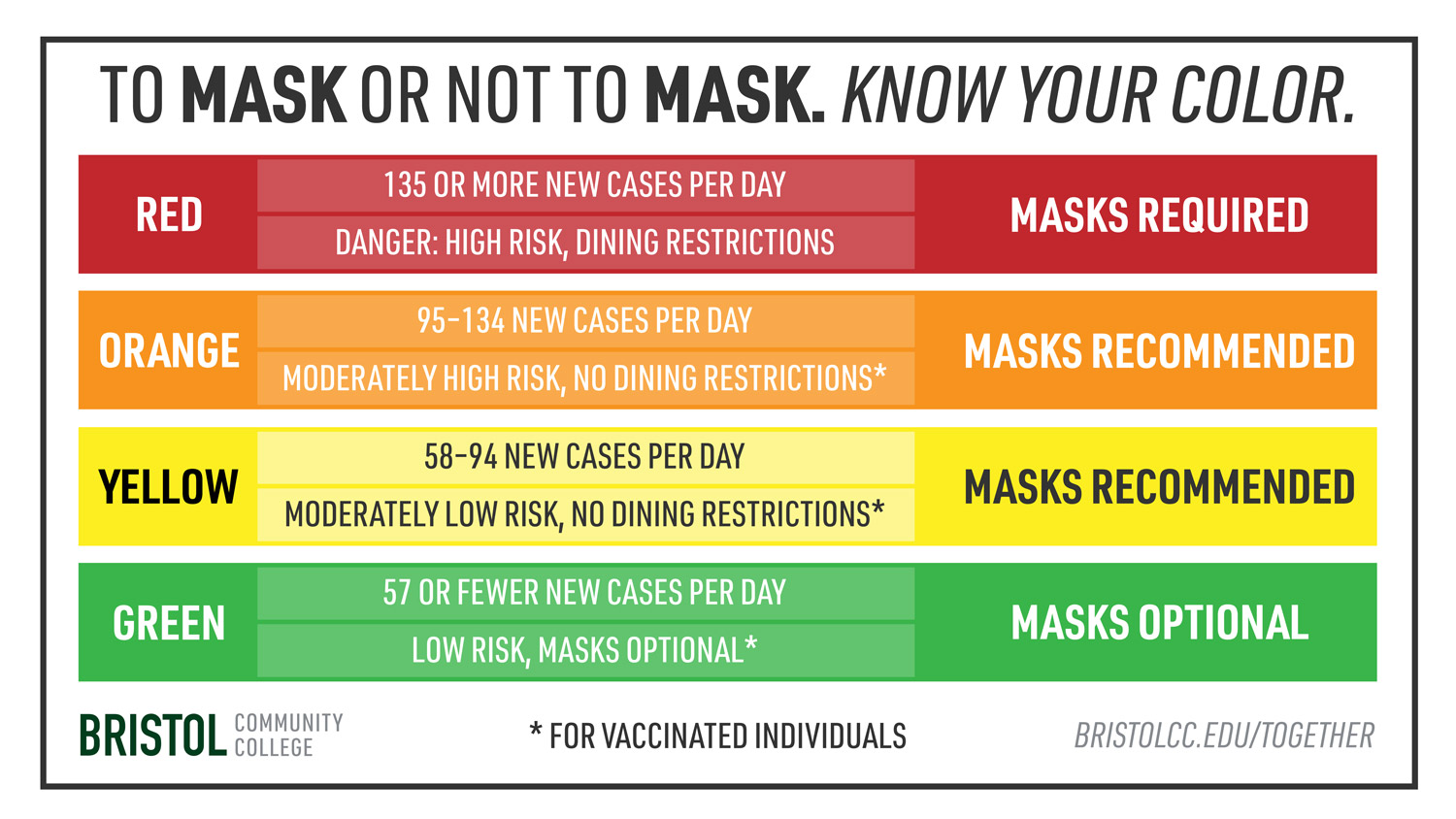 If you have symptoms, have been exposed to someone with COVID-19 or test positive for COVID: Please do not come to campus. Visit the If You Are Sick page for information on what to do.

---
General Information
On-Campus College Services
Bristol Community College locations are open!
Virtual appointments are available regardless of COVID-19 vaccination status.
Proof of COVID-19 vaccination or valid COVID-19 accommodation is required for in person appointments that are more than approximately 15 minutes.
Arrive no earlier than 10 minutes prior to your appointment time.
No guests/visitors at your appointment, unless previous arrangements have been made.
Do not come to campus if you are experiencing any COVID-19 symptoms or if you are a close contact of someone with COVID-19. Contact the department to either reschedule your appointment or change to a virtual appointment.
Download the Bristol Mobile App at the App Store or Google Play to stay updated and upload your vaccination card.
While You are on Campus
Eating while on campus
Visiting a Bristol Community College location
List of areas requiring COVID-19 Vaccination Cards at the door
Mental & Emotional Well-being
Mental health counseling is still available remotely for students.
Student Wellness: Mental Health Counseling is available through Bristol's Counseling Services or call 774.357.2234.
CARE Team: Visit the CARE Team page to make a referral.
Call2Talk: Mental health, emotional support and suicide prevention program provided by Mass211. It runs 24/7 and is there to help during stressful times. Mass211.org/Call2Talk
Technology Resources
We are here to help! Find valuable resources for:
Bristol Online
ITS Tech Team
Internet Access
Digital Productivity Tools
Click Technology Resources for the help you need.

Questions About Your Loans During the Pandemic
Information regarding any type of federal aid is available at StudentAid.gov
You may also contact your loan servicer for details. To find your loan servicer log in to this web page.
Filling Out My FAFSA
The Department of Education has a YouTube channel that is easy to use and can answer many questions. You can also contact the Office of Financial Aid at FinancialAid@BristolCC.edu.