Scroll Down for Page Content
---
---
All are invited to drop by the Honors Showcase, Tuesday, May 3, 2022 from 11 a.m. - 1 p.m. in the G-Building Atrium. Students would love to discuss their final Honors projects with you. Stroll around our 20 tables to learn about these exciting projects and how to get involved with the Honors Program at Bristol.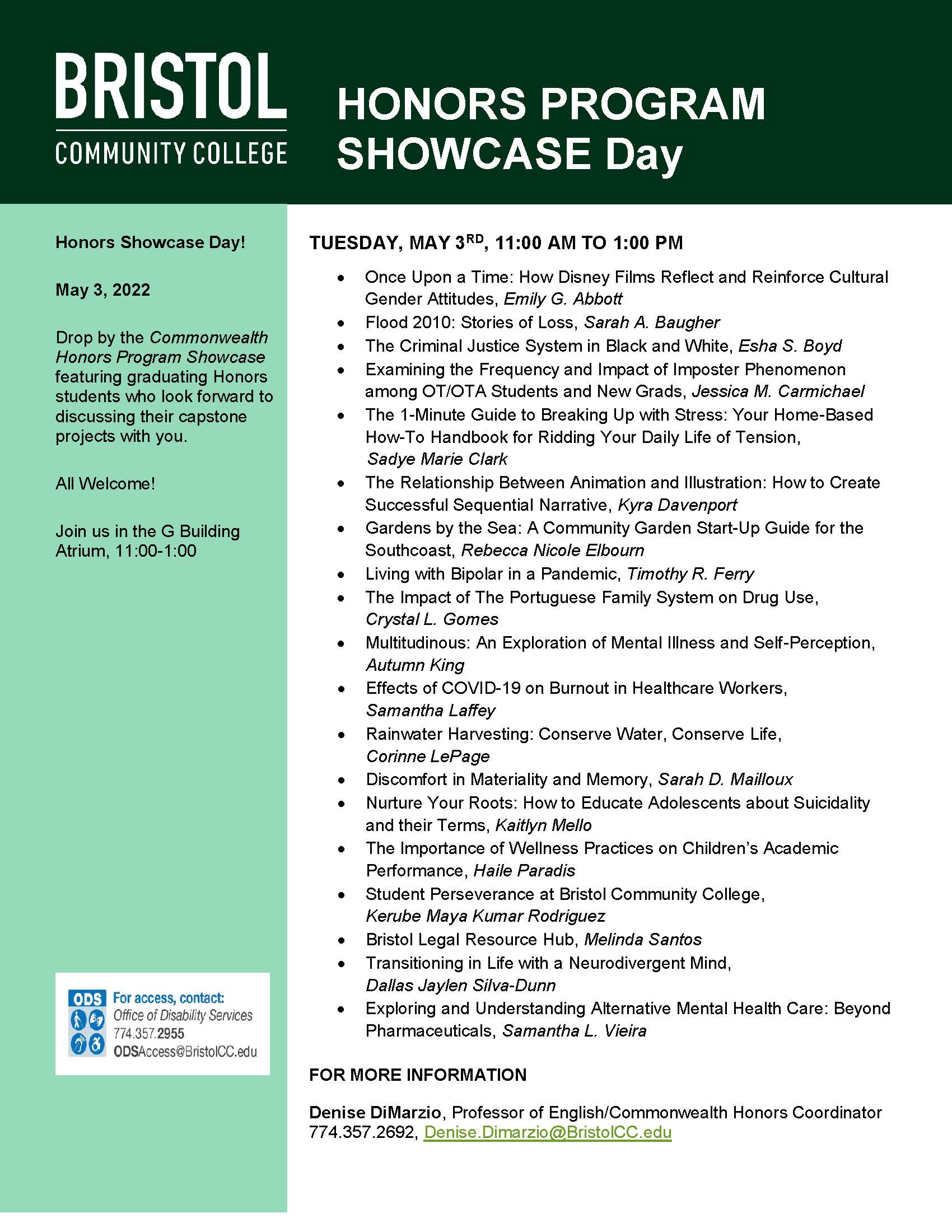 Video presentations that were not made in person during the event:

The Impact of the Portuguese Family System on Drug Use | Crystal Gomes
Bristol Legal Resource Hub | Melinda Santos
Project Happy Healing: Exploring and understanding Alternative Healthcare: Beyond Pharmaceuticals | Samantha Vieira
---
The Fall 2021 Honors Showcase took place virtually Tuesday, December 7 through Thursday, December 9, from noon to 1 p.m. each day.
Join our graduating Commonwealth Honors students as they proudly present their final Honors projects. With so many graduates this year, we again have changed our Showcase Day to a multi-day event! Each day, multiple students will share their work and guests will have a chance to interact with them.
See recordings of each day's presentations below.
Schedule of Presentations:
Tuesday, December 7, noon – 1:00 p.m.

Here, There, Both or Neither: Young Immigrants' Self Identity | Nadia Calderon
Understanding how first and second immigrant generations develop their sense of identity and belonging.


Effects of Storage on RBC Morphology | Michael Krawchuk
Time-dependent assessment of morphological changes to red blood cells in storage and how it affects test results.


Burnout | Samantha Laffey
A look into the effects that "burnout" has on nurses and the nursing profession.


Who's Training Who? | Ashley Meeks
Measuring the impacts of dog training programs on inmate handlers.
---
Wednesday, December 8, noon – 1:00 p.m.

Imagine a City | Michael Gould
A visual arts study into the process of designing fictional locations at various scales and perspectives for use in films, animations, books, and comics.


Multicultural Families: Reimagining the Family Tree for the Classroom | Shanna Marszalkowski-Krawitz
Discussion and learning plans for teaching multiculturalism in today's elementary classroom through exploring what family means in the modern era.  


Decontextualized: Enduring Perspectives on American Immigration | Michael Perry
An original literary novella that investigates the historical echoes of American cultural values surrounding immigration. 


'Inhuman' | Kennedy White
Despite years of increasing awareness and acceptance of the LGBT+ community, one orientation still fights to be heard and understood.
---
Thursday, December 9, noon – 1:00 p.m.

Living with Bipolar in a Pandemic | Timothy Ferry
Discussing the unique challenges of the pandemic for people living with bipolar disorder. 


Neo-Nexus | Zachary Lucas
Animated short story set in a dystopian/cyberpunk-esque world using semiotics and filmography techniques.


A Place Called Home: Understanding the Impact of Adoption in Massachusetts | Jonathan Tonin
A deep dive into how the adoption process in the state of Massachusetts and the effects of adoption on the social and emotional well-being of children.
---
For more information:
Denise DiMarzio, Professor of English/Commonwealth Honors Coordinator
774.357.2692 | Denise.Dimarzio@BristolCC.edu