Scroll Down for Page Content
---
---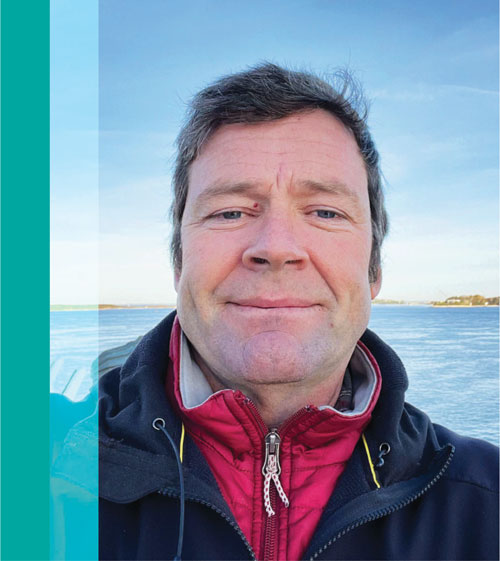 A new industry and a local training program sparked the interest of Pat Cassidy to put his sea legs and capable hands to good use and pivot to a new emerging career in offshore wind.
Pat, 51, a carpenter and boat builder, is now training to become an offshore wind power technician where he resides on Martha's Vineyard.
He is enrolled in the Bristol Community College Wind Power Technology Certificate program – a
collaboration between Bristol, Adult & Community Education (ACEMV) and Vineyard Power Cooperative –that will enable him to enter a "really exciting industry," he said.
Pat responded to an advertisement about the training program in his local newspaper and is close to completing the program.
The training, for many, will lead to new year-round positions at Vineyard Wind, the first commercial scale offshore wind farm in the United States, to be located just off of Martha's Vineyard.
"The industry is too appealing to pass up," Pat said. "It's all happening right here in New England."
Pat, who lives in Oak Bluffs with his wife and their dogs, has an extensive maritime background and enjoys working with machinery, making him a perfect candidate for the technical and intellectual aspects of the course and career.
"This industry is too appealing to pass up. It's all happening right here in New England."
He has studied electrical machinery, ecology, wind power technology, operations and maintenance, and more — first at his local high school, where the program was offered by Bristol — then online throughout the COVID-19 pandemic.
"It's been great," he said. "I've enjoyed the topics."
Pat said the possibilities of his new entry level career are endless due to Bristol's commitment to workforce training.
"I think it's great that Bristol has partnered with the state for this program," he said.
Vineyard Wind, an 800-megawatt, 84-turbine program, is estimated to begin operations in 2023. It is set to create thousands of jobs and utilize New England's wind source to power sustainable energy that will be good for the environment and in decreasing the cost of electricity in the region.
"I can't wait," Pat said. "It gives us the entry-level requirements and training to apply for the job."
Read the TIME magazine article featuring Bristol's National Offshore Wind Institute.
Read the MV Times article featuring Bristol's first graduates of the Offshore Wind program.